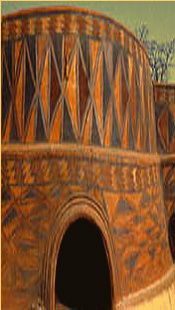 All of Tiki Mercury-Clarke's performances are based on the idea that knowledge can empower an individual or group to create new futures and to heal old realities. Knowledge is a weapon, that's why oppressive regimes control the media, the arts and educational institutions of the countries they rule. KAKUYON means "arming the people" in an Afrikan language. STRONGHOLD is synonymous with fortress – an impenetrable wall of fortified strength. Tiki's performances impart the gift of knowledge to her audience which they in turn can use to fortify their mind.

Over the years of performing at schools, for community groups, churches, businesses etc., it became clear to Tiki that more than perfomance was necessary to affect the deep-seated mind expansion that she wished to produce. She felt it was necessary to have a company that went beyond the performance phase of her productions. Kakuyon Stronghold was created to fill this need. The company's performances, along with the supplementary educational products that Kakuyon Stronghold offers, allow those who come into contact with the messages exchanged to go forth and build vibrant future opportunities for themselves and others. Kakuyon Stronghold was formed to create, manufacture, and distribute profoundly educational artistic works that deal with societal issues using an Africentric perspective. The use of the creative and performing arts as the vehicles for dispensing knowledge and wisdom is rooted in Africentric pedagogy. Kakuyon Stronghold will be offering performances, workshop materials, CDs, DVDs, books etc. by Tiki Mercury-Clarke as well as others.

The goal of Kakuyon Stronghold is to offer "education disguised as entertainment" and more importantly ensure that this 'education' is inclusive, comprehensive and honest.